I guide for Alaskan Wilderness Outfitters based out of Cordova, Alaska.  There is a large run of Silver Salmon within a very short watershed of the Tsiu River.  Amenities include a private cabin with two floors, kitchen, bath and internet.  The lodge has beer on tap, red and white wine, a personal chef as well as the guide staff with continued services.  There is a fly tying table where customers will tie there favorite fly.  Clousers, bunny leeches, and wogs are the most common fly, but I challenge people to come up with something new to catch a fish on…it's easy fishing out here.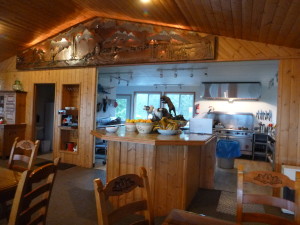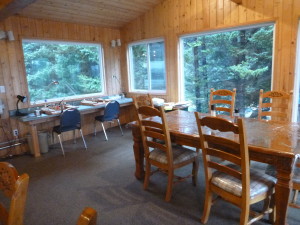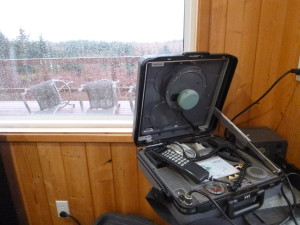 There is a lounge area to cozy up on a couch and look through the large windows facing the lush Alaskan Wilderness.  One of the nicest things about the lodge that you won't find in this area, is that the lodge was built within the trees.  Most lodges that I've seen from the plane are right on the coast, with regular wind and rain in the area, this lodge is much more comfortable.  Being a wet environment, having a cedar drying room for your waders and wet clothes is a very nice touch.  There is a satellite phone available, but most people talk to loved ones via email.  The chef is outstanding and has worked for Chef Ramsey in L.A.  If you enjoy fresh salmon, tender steak fillets, sushi, and ribs your going to love this chef.  If what he's making isn't something that you like, he is happy to work with what is available and make you something that you enjoy.
The owners have 3 planes, this Otter being there bread and butter, it has a jet engine installed and only needs 80 feet of runway.  The ride out from Cordova on the private plane is very enjoyable.  You'll pass multiple glaciers, including the 2nd largest in the world, the Bering Glacier.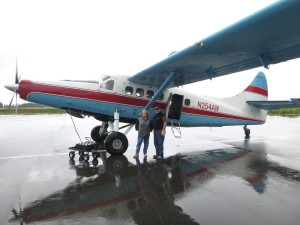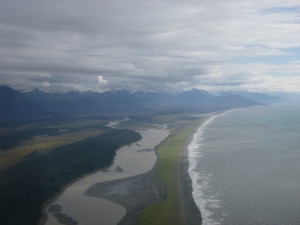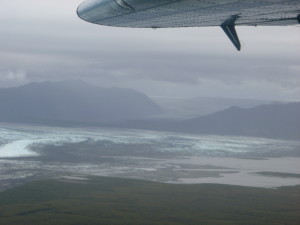 The fishing is ridiculous. If you don't catch a fish in three casts, then it's time to move, because the fishing is silly.  There is plenty of water to explore, our mode of transportation is 4 wheeler.  Weather you need a chair to sit down and fish with a spin rod, or you want to go on a backwoods adventure, there is unlimited area to cover and search for fish.  The average Coho, or Silver Salmon is 12 lbs, but it's not uncommon to find a fish pushing 16 lbs.
If your looking to see some bears, there are plenty in the area.  These are not your neighborhood bears that are used to people and noise, these bears don't like humans and are afraid of any loud noises.  All of my close encounters with a bear have ended with the bear running away without me having to make a noise.  If you yell from a distance you can scare one of these bears away.  They want nothing to do with us, but if they allow you the opportunity, are outstanding to watch.
If you would like to come to Alaska, please send me an email –  flyselector@gmail.com or call me 847-544-1039 . Prices are listed on Alaska Wilderness Tsiu River Lodge site.   If you were short on time or money, a 3 day vacation will allow you great fishing, but it's difficult to get the true feeling of being in the wilderness while having a time constraint. In my opinion 4 days is about perfect, but with that said, weather may influence your vacation, so I would suggest 5 days just incase there was a weather delay.