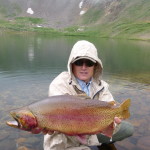 I follow my passion, stay true to my word, and live to fulfill a good life.  I enjoy all things fish.  Teaching people about fish, and volunteering for organizations that work for positive change is life's passion.  I love bringing new people to the sport of fly fishing and educating them about the differences in fish to eat and fish to catch.  There is a market for both.
My first career was as a licensed financial advisor.  I started in banking while attending high school 1996 where I was a teller in the town that I was born, Rolling Meadows, IL.  I continued to be a teller throughout high school as well as during my first summer of college.  I worked a variety of jobs while attending three different colleges, mostly call center related jobs, collections, sales, and customer service. In 2002, I graduated college from Illinois State University. I was on my way to a financial advisory job interview when I met a woman in a blue jacket on the Metra train in Downtown Chicago…I never made it to that interview. The woman convinced me to come with her to work as a floor runner at the Chicago Mercantile Exchange.  She walked me onto the Euro Dollar Trading Floor, and within minutes I had a job.  I worked along side some of the wealthiest people in Chicago, and enjoyed learning the true definition of a market.  I also learned that I did not want to turn into any of my mentors at the time.  I left Chicago a year later in pursuit of a different lifestyle.
My banking, phone, and market experience looked great on paper for a Wells Fargo Personal Banker.  I  planted a seed in Colorado and accepted a position in Louisville, CO for two years. Within my 2 years with Wells Fargo I passed testing for the Colorado Insurance Sales Agent as well as my Series 7 and Series 66 Licensed Financial Advisor Licensing.  While working in the bank, I had a customer recruit me to a higher paying Stock Broker position with UBS Financial, and after 5 interviews I switched companies and got my own office in downtown Boulder.  They sent me to New York for training and gave me two years to prove my worth as a Licensed Financial Advisor.  I knew at the time it was not going to be an easy challenge, but I did very well, raising $15 million in personal assets in two years.  I enjoyed helping people, and still do, but there is nothing worse than closing a sale and wondering if my client is going to have the gain I want for them, or if it was my company's financial gain that ultimately was first priority in the sale.  The more people I sold, the more I realize the person looking back at me in the mirror each morning was the same floor broker on the Chicago Mercantile Exchange I did not want to become.
My passion is to help the environment in a way that supports healthy fisheries.  Guiding fly fishing can fulfill that passion as it teaches people that water is not just for humans.   In my opinion, fly fisherman are the ultimate stewards of our environment, but there needs to be more education available to the general public.  It is a difficult sport to get into, and I am trying to make it easier for people thru a product a created called the Fly Selector.  During my time as a fly fishing guide I took pictures on the river of aquatic life and created an insect identification and fly selection tool  – visit www.flyselector.com to purchase one.
I am currently working as the Sustainability Director for Northeast Seafood based in Denver, Co.  I help Chef's and retail stores to make seafood purchasing decisions that support sustainable fisheries across the globe.  There is an unlimited amount of information on this topic.  What is most important to know from a consumers perspective is that farmed fish are not bad.  Farmers are people who dedicate their life's work to raise food for our nations. Farmers raise our potatoes, onion, tomatoes and fish.  Fish are more sustainable to farm than any of our current grocery store proteins.   We do not plow the earth of the native plants to grow fish, we do not have to give fish fresh water to drink, fish do not have to fight the effects of gravity, the carbon foot-print in much smaller and it's a much needed source of omega's that our body needs to fight things like cancer…the sum of many factors is that consumers need to worry less about what fish to eat, and need to start eating seafood!
I am on life's journey as we all are, and at some point in time we all realize the value of a terrific guide.  If you have any guidance to my life's journey, or if you just want to connect, feel free to call, email, or use social media to contact me at anytime.
Thank you,
Chad Pettrone